Meet Phil Ramsdale, TSL's President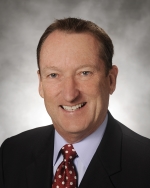 Phil Ramsdale started his transportation career on the provider side. Following tenures at FedEx, UPS and SonicAir, Phil started a transportation consulting firm, Transport Solutions, LLC in 1987. Utilizing his vast knowledge of freight logistics, Phil helps top-tier clients purchase and manage services from domestic USA and global transportation providers.
Phil knows the freight business from every angle and has assembled a team of experienced consultants and analysts with complementary expertise.
Phil always takes your side in transportation research and negotiations. He puts Transport Solutions' proprietary software applications and expertise to work on your issues. Transport Solutions has good working relations with freight service providers, but there is never a question that your interests are always first and foremost.
Multi-national companies trust Phil's expertise. His team at Transport Solutions has worked on projects that have saved these clients millions of dollars while improving their services.
Contact Phil at:
Phil Ramsdale
Transport Solutions LLC
1306 Park Avenue
Long Beach, California 90804
Telephone: (562) 283-0521 x 208
PRamsdale@tsllc.com